Harrisville, Michigan - USA
---
Featured on Discovery Network, Animal Planet, DOGS 101, click HERE for photo essay of the filming at Quaker Farm.
Crown Thistle Collie puppies include U.S. and 100% European Bloodlines
Contact
Testimonials
FAQ's
Meet Our Dogs
Available Pups
Prices/Policies
Pup Application
Delivery Info
Nutrition
AKC Canine Good Citizen Program
---
Welcome to Crown Thistle Collies!
Spring 2015 - Sable and white and tri color Collie puppies are available now. Click HERE to visit the Collie Nursery.
Happiness is a fun-run through far ranging fields!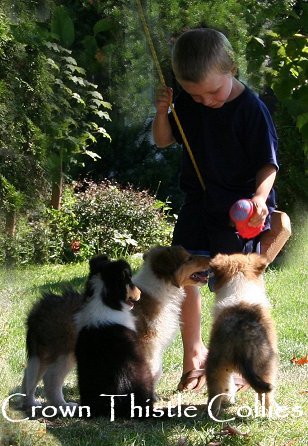 At Crown Thistle Collies, we sell rough Collie puppies from farm raised family dogs who are beloved members of our family. If you are looking for a Collie puppy, we sometimes have rough Collie puppies for sale. Due to the popularity of our Collie dogs, we generally have a waiting list. We usually a couple of litters a year as we advance and preserve our bloodlines and improve the next generation of our remarkable Collie dogs.

We are located in Harrisville, Michigan. As a Michigan Collie breeder, we sell quality rough Collie pups from normal-eyed championship European and American bloodlines.

We specialize in rough Sable and White Collie pups, Tri-Color Collie puppies and occasionally we have White and Blue Merle Collie pups as well. Our Collies are purpose-bred to not only have beautiful conformation, but to also have calm, gentle, intuitive, and highly intelligent temperaments as well. We have both show champion and working Collie bloodlines at our farm. We raise only classic rough Collie dogs and do not work with or breed smooth Collies.

(Pictured left is grandson Johnathan, a 5th generation Collie enthusiast, playing with 5th generation Crown Thistle Collie puppies while being filmed by Animal Planet.)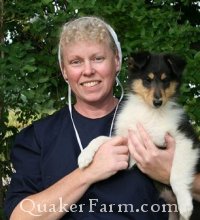 I am fortunate to have been raised with Collie dogs; my father and mother were Collie breeders. As a child, my greatest protector and friend was one of my parents stud-dogs, "King". King was a classic Lassie look-alike, a sable rough Collie that exemplified both breed standard and temperament, while "Shadow" was one of our stylish companions - a beautiful Tricolor Collie who loved children, and whose devotion I will never forget.








Read about our amazing Collie dogs, and other short stories. Available at AMAZON.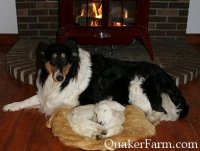 Our Collies also appear in some of our educational videos about farm life and homesteading. For example, Willow is followed by a newborn lamb, who, after being bottle fed, tries to chase after the great, gentle Tri color Collie who had found him orphaned and alone and saved his life. Watch the short, touching video HERE. Willow and the lamb appear at the end.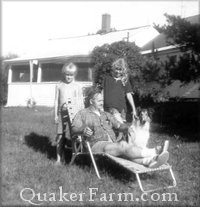 The black and white picture to the left shows me in 1971 at our family farm in Maine holding one of the beautiful family rough Collies next to my grandfather. Two of his favorite dogs were Tilley and Brownie.

This web site is dedicated to my Grandfather who passed away in 2003. An immigrant from Ireland, one of his favorite songs was "Danny Boy" - it's one of my favorite songs too.




Today, the tradition continues and I am greatly blessed to be able to work in partnership with several members of my family, in Michigan and around the country, all of whom respect and love the Collie breed and strive for improvement. Our Collie dogs are raised as personal companions, as well as farm collies. Our farm Collie dogs are trained on a working farm with sheep, horses and dairy goats. Crown Thistle Collies enjoy being able to live out their natural desires to work and herd, and are faithful, loyal friends to us.


We selectively breed Collies for superior temperaments, confident intelligence, gentle personalities, and a steady willingness to learn and achieve. Collies are simply wonderful family dogs and great with children. The relationship between a well-bred Collie dog and a child is remarkable - I know because I experienced it in my own childhood, and I have seen it so often through the years in the lives of my children, my grandchildren, and the children in classrooms and libraries where our dogs visit. Because of our commitment to them, it's important that our Collie puppies are placed in homes that can accommodate, responsibly train and lovingly appreciate a Collie for the wonderful dog that it is.

We use carefully selected European bloodlines to enhance ideal temperament and ensure a wide gene pool, soundness, and vitally important genetic diversity. The sires we imported from Germany in 2003, and 2010, made even more significant contributions to our already diverse Euro/American bloodlines.

For information about the importance of genetic diversity in dogs, watch the 2008 BBC documentary, Pure Bred Dogs Exposed. **NOTE** - this is not a documentary which we recommend for children - parental discretion strongly advised.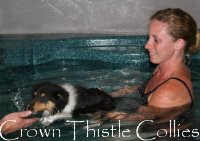 During the important early psychologically formative weeks, we carefully train our Collie puppies in an extensive and effective early kindergarten puppy program, which includes teaching them how to swim by 7 weeks of age. Our unique early puppy training program helps our clients to get a good head start training a pup who is a confident and willing learner. Our daughter Hannah, shown on the left, is swimming with one of our collie pups while being filmed for Animal Planet. This pup went to a wonderful family in MA who named her Kayla.

We even cook for our dogs because we believe that after genetic diversity, excellent nutrition also plays a vital role in the health and longevity of dogs. Nutrition can never be as wholesome from a can or bag of commercially processed dog food as fresh, natural food is. Fresh is best - true for people, true for dogs!

Our Collies are registered with the American Kennel Club. We follow AKC initiatives for having puppies for sale, accurate identification, DNA testing and health screening.

The Collie is a very special breed of dog and we are committed to breeding highly intelligent, genetically sound, people-pleasing Collies for people who are looking for an excellent family dog. The Collie is a very manageable breed of dog and quietly mannered indoors. However, they do require a regular grooming schedule (one of my favorite hobby occupations is spinning and I love to spin Collie hair into yarn!). Collie males grow to be 65 to 80 lbs, while female Collies average 45 to 65 lbs.

Collies are certainly among my very favorite breed of dog and I feel they are one of the most dependable breeds of dogs with children. Chore time everyday finds me in escort of my beautiful Collies who share my love of the farm, enjoyment of the great outdoors and the satisfaction of meaningful work.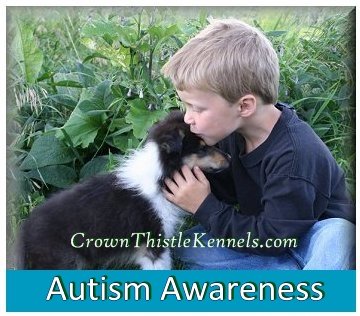 Autism Awareness
April is autism awareness month. During the months of April and May, we will donate a specially talent-evaluated and started Collie puppy, and training education, to two families with children affected by Autism. We have trained and placed Collie dogs as companions for children in this special way because studies have shown (and our experience has demonstrated) that dogs can help children cope with the daily fears and stress that accompany Autism, and can also improve an Autistic child's general well being.

Assistance, Service and Therapy Dogs
Every year we are privileged to place some of our extra talented and keenly intuitive dogs in forever homes to assist with special needs. Crown Thistle Collies successfully work as service, therapy and assistance dogs. Because of the unique temperament of our Collies, even as pups, they have especially made notable contributions to families with special needs children.

Currently, six of our Collie dogs are available, working when needed, as therapy dogs, reading dogs and crisis relief dogs.

Crown Thistle Guardian Foster Program
Our holistic dog breeding program ensures the well-being of every Collie we own. Our dogs are each loved, worked with, treated and considered as the important individuals that they are. For this reason, we maintain a Guardianship Foster Program through which qualified families or individuals may be placed with one of our breeding quality Collies, at a greatly reduced cost. We retain full breeding rights to this dog for a limited amount of time, after which, said Collie dog is altered and remains with their forever home with no further attachments.

If you live within 2 hours of Harrisville, Michigan.

If you own your own home with a fenced yard.

If you have the personal circumstances to be able to care for (and house indoors) a large breed dog that sheds (moderate to heavy) and needs regular grooming care.

If, meeting the above requirements, you would like to be considered for this program, contact us for more information and possible application. This is a wonderful opportunity to own one of the most beautiful and classic pure-bred dogs of all time; one with a rich history of legendary loyalty, ability and fame!

NOTE: We do not have puppies or dogs available for Guardianship at this time. Please contact us if you would like to be put on a waiting list.



For a dog to be thy best friend, thee must first be his. - Quaker Anne
---

Crown Thistle Extras
---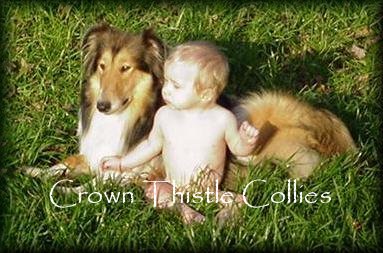 Our grandson, Cameron, as a baby with faithful Lassie keeping his company...and then...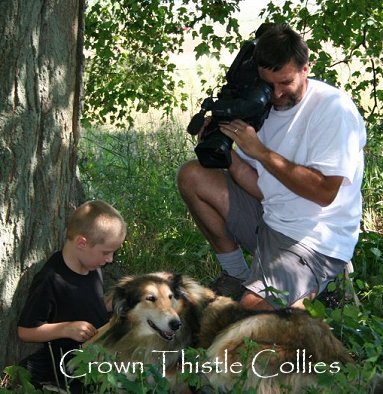 7 years later, our grandson Cameron reads to his beloved lifelong friend Lassie while
being filmed for Animal Planet.
A boy and his dog experiencing a moment together that is now the memory of a lifetime.
---
Pet Portraits!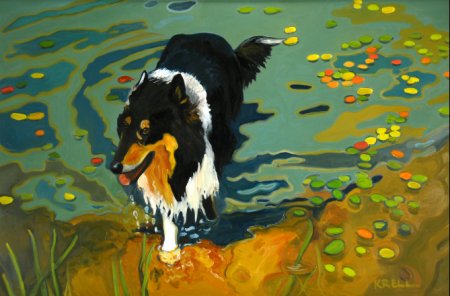 Pet portraits by Meredith R. Krell as paintings in oils or linoleum prints.
Visit:
merfnsteve.com
---
Contact
Testimonials
FAQ's
Meet Our Dogs
Available Pups
Prices/Policies
Pup Application
Delivery Info
Nutrition
AKC Canine Good Citizen Program
---


Crown Thistle Collies participates in the American Kennel Club DNA testing program and microcopy identification for dogs.


For more information visit the AKC web site at www.akc.org