Fall 2014 update. Puppies are available now. Call for more information.
989-736-7627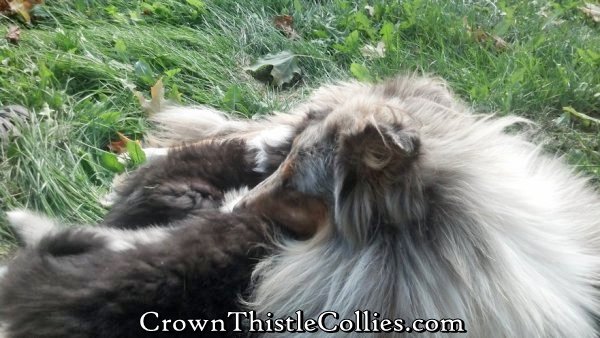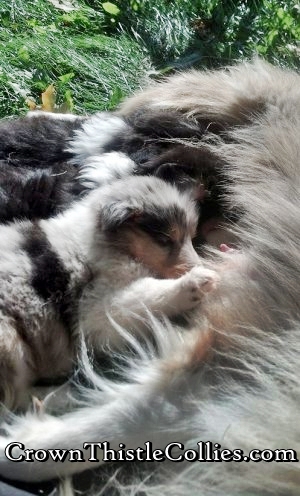 Our blue merle collie dog named Misty whelped with beautiful pups. She is pictured here enjoying a nap in the grass with some of her puppies. This is a beautiful time of the year to train a new collie puppy!

AVAILABLE NOW:
2 blue merle females 1 blue merle male
1 blue merle factored sable and white male with blue eyes
1 sable and white male 1 sable and white female
1 tri color male 1 tri color female




---
If you are interested in submitting a deposit for a rough Collie puppy please contact us by phone, 989-736-7627. We will contact you as soon as we can.

Please understand that we are not online very often. We return telephone calls as quickly as possible, but it may be a few days. We appreciate your patience.


News from the farm

It is always a joy to meet the kind people who have waited patiently to adopt one of our Collie puppies. And the wait is certainly worth it, our pups are exceptional as many people know. One recent family sent this update; "Tucker made the ride home with no problems at all. He is delightful, sweet, calm and so loving. He has adapted easily and amazingly quickly. Thank you so very much for such a wonderful collie puppy!"

We are grateful to work with such remarkable families who are willing to be thoughtfully considerate of our busy and sometimes unpredictable farm schedule! Our customers are some of the finest people we have ever met. Their kindness and patience assures us that our pups will be happy and well cared for in their new forever homes. And what a joy it is to watch children and families have such fun with our baby goats and lambs when they arrive to meet their new collie puppy. We even try to have warm bottles available for feeding baby goats and one can just imagine all of the pictures that are taken! Such a joy for us to be a part of!
---