Summer 2015 update. Misty-Blu and Stormy have both whelped!
Beautiful blue merle collie pups, and tri color puppies available!
We accepting deposits now.
Call: 989-736-7627 Email: quakerfarm@gmail.com
Misty Blu and Murphy (below) are the parents of this beautiful litter!
Our amazing Stormy (see below), and Murphy are the parents of this next lovely litter!
Introducing Misty and Murphy

A little bit about Misty. Misty is a gentle, sweet natured, self content girl who seldom barks and who gets along with absolutely everyone she meets, even mischievous cats! Misty is demure in every sense of the word. She is thoughtful with baby animals and is especially considerate and loving with children. As a puppy, Misty was very easy to housetrain, and as an adult, she is a willing learner and warm natured people-partner. She is easy to love for so many reasons, that they are too many to mention!

A little bit about Murphy. Murphy is very special to us for many reasons, not the least of which is because he is the grandson of our famously talented Willow, who was filmed working at Quaker Farm for Animal Planet. Murphy is steady, focused gentle, strong, and an enthusiastic people-partner who seldom ever barks - unless there is something important that he feels we need to know. Murphy is so reliable, that he is highly trusted everywhere he goes.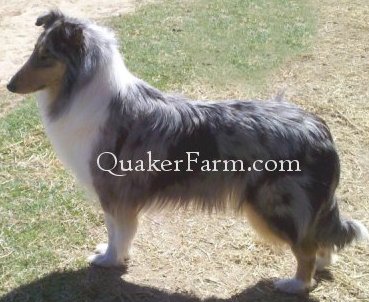 A little bit about Stormy. Stormy is a rare and precious gem. She is steady minded, intelligent, confident, calm, careful and willing. Stormy is one of our full time livestock guardians and herding dogs, and she does her jobs effortlessly and well. The sheep and dairy goats are quick to comply with her direction, they know better than to be contrary - she manages them so smartly.

Stormy is one of the many Collie dogs here who make life on the farm manageable and we are keenly aware of - and deeply, deeply grateful for - the value of their dependable agricultural work and vast contribution to the well being of our lives in so very many ways.





---
Crown Thistle's
Scotch Tartan Legend
Scotch Tartan Legend
(a.k.a., "Scotty") is a hard working, courageous and highly capable working dog at our farm. He has a strong drive and is very focused on team work with us when out in the fields. His most earnest desire is to be pleasing and to do a good job, and he absolutely
relishes
the praise of a job well done.
Scotty is full of big-hearted character, cheerful charisma, and he has a cheeky sense of humor. He loves children, farm animals, and cats - though the cats do not have mutually affectionate feelings towards him or his attentions! His favorite toys are frisbees and rope toys and our big tug ball. His favorite way to relax is to get a complete back scratch followed by a body massage - which he only considers finished when he finally dozes off!!
Though Scotty is purposeful when working with us out doors, he is very laid back when he is in the house.
---
Watch videos of some of our past puppies! CLICK HERE
It is always a joy to meet the kind people who have waited patiently to adopt one of our Collie puppies. And the wait is certainly worth it, our pups are exceptional as many people know. One recent family sent this update; "Tucker made the ride home with no problems at all. He is delightful, sweet, calm and so loving. He has adapted easily and amazingly quickly. Thank you so very much for such a wonderful collie puppy!"

We are grateful to work with such remarkable families who are willing to be thoughtfully considerate of our busy and sometimes unpredictable farm schedule! Our customers are some of the finest people we have ever met. Their kindness and patience assures us that our pups will be happy and well cared for in their new forever homes. And what a joy it is to watch children and families have such fun with our baby goats and lambs when they arrive to meet their new collie puppy. We even try to have warm bottles available for feeding baby goats and one can just imagine all of the pictures that are taken! Such a joy for us to be a part of!


---