Call: 989-464-7262 Email: crownthistlecollies@gmail.com
Summer 2016 update: We have sable and white, tri color and blue merle Collie pups available and ready to go to their new homes. We are accepting deposits now.

The sire of our available pups is Murphy
A little bit about Murphy. Murphy is very special to us for many reasons, not the least of which is because he is the grandson of our famously talented Willow, who was filmed working at Quaker Farm for Animal Planet. Murphy is steady, focused gentle, strong, and an enthusiastic people-partner who seldom ever barks - unless there is something important that he feels we need to know. Murphy is so reliable, that he is highly trusted everywhere he goes.
Are you getting a new puppy? This excellent book has important information to help you prepare for your new puppy, and make the best start in the first few days. Available for Kindle from Amazon.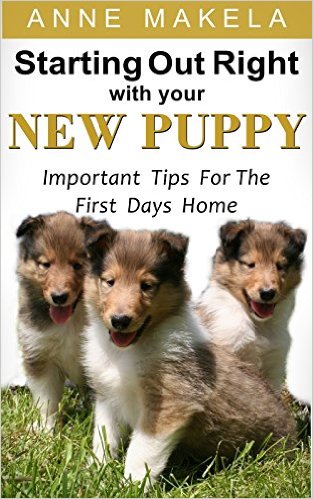 Starting Out Right With Your New Puppy
---
Watch videos of some of our past puppies! CLICK HERE
It is always a joy to meet the kind people who have waited patiently to adopt one of our Collie puppies. And the wait is certainly worth it, our pups are exceptional as many people know. One recent family sent this update; "Tucker made the ride home with no problems at all. He is delightful, sweet, calm and so loving. He has adapted easily and amazingly quickly. Thank you so very much for such a wonderful collie puppy!"

We are grateful to work with such remarkable families who are willing to be thoughtfully considerate of our busy and sometimes unpredictable farm schedule! Our customers are some of the finest people we have ever met. Their kindness and patience assures us that our pups will be happy and well cared for in their new forever homes. And what a joy it is to watch children and families have such fun with our baby goats and lambs when they arrive to meet their new collie puppy. We even try to have warm bottles available for feeding baby goats and one can just imagine all of the pictures that are taken! Such a joy for us to be a part of!


---